With the holiday season quickly approaching, it's time to get into the festive spirit! One way you can show your love for all things winter and merry is by indulging in some creative snowflake nail art. This fun and fashionable manicure will make you feel like a walking winter wonderland – no matter what kind of weather you're facing this season! From sparkling snow-inspired designs to icy shades of blue nail polish, we've rounded up some of our favorite snowflake nail ideas to make you cheerfully cheerful while counting down the days until Christmas.
The best snowflake nail ideas for the holiday season
From classic red and green glitter ombré to chic snowflake designs, you can find the perfect nail design for any festive occasion. No matter your style, these snowflake nail designs will add a touch of winter magic to your holiday look.
To get started on your snowy manicure, apply a base coat that matches the color of your polish choice. Next, use a nail art brush or dotting tool to draw on a simple snowflake pattern or create intricate details using white and silver glitter polishes. For an ombre effect, layer shades of blue over each other until the whole nail is covered in a frosty gradient. Finally, finish off with a glossy topcoat to give your nails extra shine and sparkle.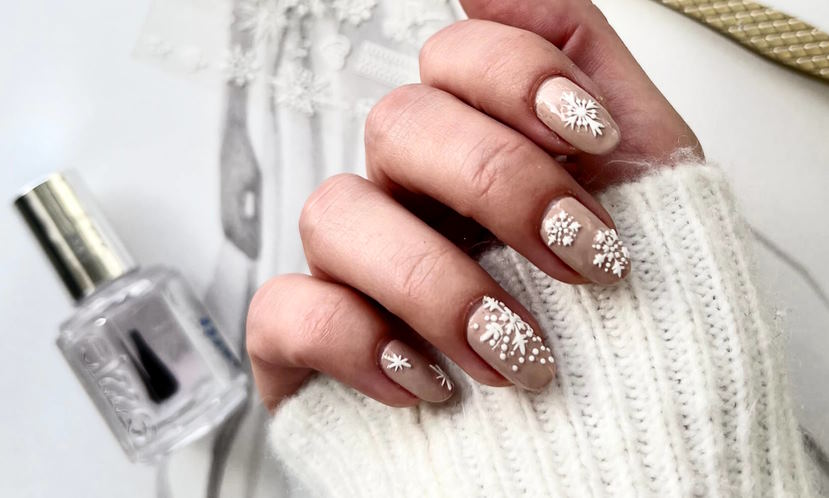 You can also create a magical snowflake look with rhinestones or holographic studs. Arrange them in the shape of snowflakes on each nail and secure them with top coat for extra shimmer and shine. Finally, if you're feeling especially festive, try adding metallic sparkles over a white background to give your nails an icy winter glow.
No matter which style you choose, these winter-ready snowflake nail designs are sure to add an extra special touch to any holiday look! So why not get creative with your manicure this season? With a little imagination, you can create unique snowflake nail ideas that will become your signature style!
Snowflake nail ideas to copy this winter
Adding a bit of sparkle to your winter nails is the perfect way to show off your style. Snowflake nail ideas can help you do just that! Try one of these beautiful looks for an icy-cool finish this season:
Soft blues and whites are perfect for creating a snowflake design on your nails. Start with a white base coat, then add a light blue shade around the edges and in some areas of the middle. Finally, use thin brushes or dotting tools dipped in white polish to draw delicate snowflakes onto each nail.
Another great idea is to start with a dark blue base color, then add lighter shades like light blue, silver, and white as accents. Next, use thin brushes or a dotting tool to draw thin snowflake shapes onto each nail. Finally, finish the look with clear topcoat to keep the design in place.
For an even more intricate snowflake look, consider adding holographic glitter and small rhinestones as accents over your base coat of white polish. This will create a beautiful shimmering effect that will turn heads this winter.
No matter which snowflake nail idea you choose, you'll be ready for any wintertime occasion in style! So have fun experimenting and creating your own unique designs this season!