Are you ready to turn heads with a unique and bold makeup look? Forgo plain tones for an exotic and mesmerizing tropical touch. Whether it be a night on the town or just a lazy day of lounging around, this eye-catching look is sure to make its mark. In this tutorial, we will break down each step necessary to create your own beautiful tropical makeup look that will be noticed! So get ready as we guide you through how to make your skin glow like the sun, your eyes glimmer like the ocean, and lips pop brighter than any jungle flower.
Tropical makeup tutorial: get the glowy, dewy look of the tropics all year long!
Whether you're headed to the beach or want to look like you are, tropical makeup looks can help you get the glowy, dewy look of the tropics all year long. To start off, you'll need a few basics: foundation, bronzer, blush, and highlighter. Start by applying your foundation as normal, and then use a large fluffy brush to blend in a matte bronzer along your cheekbones and around your forehead. This will give your face some added warmth that mimics natural tans from sun exposure.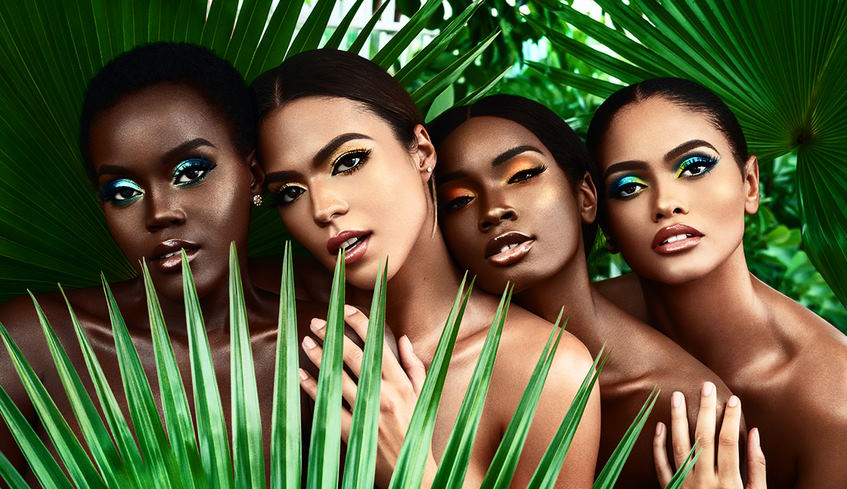 Next up is blush! Choose peachy tones for cheeks that mimic that rosy hue after some good island fun in the sun. Apply it lightly so you don't overdo it, and use a fluffy brush to blend out any harsh lines.
To complete the look, use a shimmering highlighter along your cheekbones, down your nose, on the inner corners of your eyes, and across your cupid's bow for an added glow. You can also accentuate other areas of your face with this same highlighter, like brow bones or temples for added dimension.
And there you have it! A glowing tropical makeup look will make you feel like you're on vacation all year long.
Steps to getting a flawless tropical makeup look
Highlight and contour your face with bronzer or blush to define the features of your face. For a light, natural look, stick with lighter shades that won't be too harsh on your skin. You can also use a shimmery product for added glow.
Apply eyeshadow in neutral browns, tans, and oranges to create the perfect tropical look. Start by applying a light base color on your lids and then blend darker colors towards the outer edges of your eyes. Remember to line the bottom lash line as well!
Curl lashes if desired and add mascara for length and volume. This will help open up your eyes and further enhance the tropical look.
Finish off the look with a bright lip color such as coral, pink, or orange for a perfect pop of color! If you're looking for something more dramatic, try adding some gloss to create a glossy effect.
Set your makeup with setting spray, so it lasts all day long! This will help keep your tropical look in place and prevent smudging or fading throughout the day. Enjoy your beautiful tropical makeup look!
And there you have it – the perfect tropical makeup look in 11 steps! With these easy-to-follow instructions, you can achieve professional-looking results without spending hours in front of the mirror. So go ahead and create your own unique look and turn heads wherever you go! Have fun playing around with different colors, textures, and products to find the perfect tropical makeup look.